Construction Corner
Find the Lastest Updates on Current Construction Projects Throughout the Township
Road Construction Project Updates
Spring House Intersection Improvement Project
Project Summary:
The Spring House Intersection Improvement Project is being funded through a Multi-Modal Transportation Fund Grant.  Lower Gwynedd Township is proposing roadway improvements to be located at the intersection of Sumneytown Pike/Norristown Road (SR 2052). The roadway construction generally consists of widening on Norristown Road (SR 2052) and Sumneytown Pike to provide additional through lanes in the eastbound and westbound directions, traffic signal improvements, concrete sidewalk and trail modifications on the north side of SR 2052 and both sides of Sumneytown Pike, and ADA ramp upgrades for all affected ramps within the limits of work.  The majority of the proposed work is within PennDOT, Montgomery County, or Lower Gwynedd Township right-of-way. Phase 1, which included the widening of the culvert on Sumneytown Pike, is complete. Phase 2 is currently underway. Vegetation removal and utility relocation will be completed in May of 2023. Noticeable road construction will start in June 2023. 
Please understand that Lower Gwynedd Township, Contractor, and the project team, in accordance with PennDOT and Montgomery County requirements, will make every effort to minimize inconvenience to the community and traveling public while the proposed improvements are constructed.  However, we do ask for your patience and understanding when traveling in the project area.  Project status updates will be provided on the Lower Gwynedd Township website throughout construction.
Project Schedule:
Phase 2 construction bids received- March 15, 2023
Bid Award- Listed for action on the March 22, 2023 BOS Agenda
Pre-Construction Meeting- April 11, 2023
Construction to begin- May 2023
Project Completion April 2024 (Tentative)
UPDATED PRESENTATION-MAY 10, 2023
McKean Road Pedestrian Improvement Project:
Project Summary:
Beacon Capital, owners of the Spring House Innovation Park (SHIP), have completed the required permitting to install pedestrian improvements along McKean Road. These improvements were agreed to previously when the parcel was before the Township for consideration of a land development and zoning text amendment. The proposed improvements are listed below. Construction mobilization began March 27th, 2023, and will be completed in June. Construction was put on hold the week of May 8th, 2023, as the Township and project team met on-site to review the new median curbing installed on McKean Road outside of the entrance to the YMCA. Revisions will be made to the size and shape of the median. 
Project Schedule
May 22nd Week Schedule:
Construction work will resume this Wednesday 5/24, and can be summarized as follows: 
Wednesday, 5/24 & Thursday, 5/25 – The concrete crew will be onsite to make the modifications to the new McKean Rd median and to complete all sidewalk work. This work will have minor traffic impacts, and the contractor will have flaggers onsite as required to manage traffic. At no time will McKean Rd or access to the YMCA be completely stopped.
Friday, 5/26 through Friday, 6/2 - The contractor will be installing the primary pole and mast arm at the YMCA entrance as well as the new roadway flasher signs along McKean. The new mast arm will extend over McKean Rd with new lighting signals. The setting of the pole and mast arm will have traffic impact when it is lifted and set in place. More specifics should be available later this week once the contractor finalizes a date and time to set the pole and mast arm.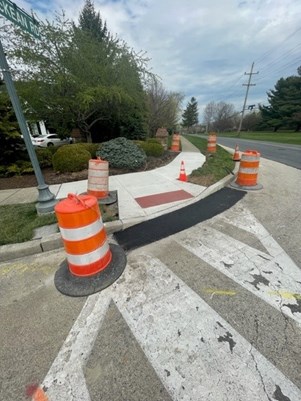 Stone House Road Crossing: 
Painted crosswalk with ADA ramps at McKean Road/Stone House Road
Trail spur connecting the crosswalk with the existing trail on the SHIP campus
Pavement markings and warning signs in each direction of travel on McKean Road
Radar speed display sign between Spring House Farm Lane & Stone House Road on the east (SHIP) side of McKean Road for northbound traffic
There will be no flashing beacons or overhead signage at the Stone House Road pedestrian crossing location.
 Ambler YMCA Crossing:
The existing ADA ramp/sidewalk at the YMCA driveway and the sidewalk on the eastern side (Janssen side) of McKean Road will be closed beginning 4/3/2023 until the sidewalk construction is completed during the week of 4/24/2023. The Janssen side of McKean Road at the YMCA crossing will have barriers surrounding the location of where the new ADA ramp will be poured connecting to the existing sidewalk. The existing pedestrian crossing south of the YMCA driveway will not be removed until the new crossing is active.  Pedestrians will be directed with signage to utilize this crossing during construction.  The existing pedestrian crossing is planned for removal around 5/1/2023.
Painted crosswalk with ADA ramps at McKean Road/YMCA driveway intersection
Pedestrian refuge island located in the existing gore area
Sidewalk spur connecting the crosswalk with the existing trail on the northwest corner of the YMCA driveway.
Overhead flashing beacons when push button is activated by a pedestrian
Pavement markings and warning signs in each direction of travel on McKean Road
Radar speed display sign north of the Janssen driveway on the west side of McKean Road for southbound traffic
Existing pedestrian crossing near the PA 309 overpass will be removed
 The Township is also conducting a traffic study along McKean Road to gather additional data on what types of improvements can be made to the roadway in the future. That work and additional information on the two projects listed above was presented to the Board of Supervisors at a meeting in February of 2023. The presentation is linked below for your reference.
McMahon Traffic Projects Presentation
Project Summary:
​​
Construction is started in late January 2020 to widen and reconstruct 2.9 miles of U.S. 202 (DeKalb Pike) from south of Morris Road to Swedesford Road in Whitpain and Lower Gwynedd townships. The existing roadway will be widened to provide a five-lane cross-section consisting of two travel lanes and a common center turn lane. A short section of U.S. 202 from Grasshopper Lane to Schoolhouse Road will be reconstructed with four travel lanes and eight-foot shoulders. The plan includes five-foot wide bicycle lanes in each direction. Improvements also include post-construction stormwater management facilities, replacement of the bridge over the Wissahickon Creek, three retaining walls, construction of two sound walls, drainage improvements, traffic signals, ITS networking components, utility installation/relocation, concrete curbs, pedestrian accommodation at signalized intersections, guiderail, pavement markings, signing, landscaping, and wetland and waterway reconfiguration.
​
The improvement plan consists of:
​
Reconstructing and widening U.S. 202 from two lanes to five lanes with a center turn lane from Morris Road to Grasshopper Lane and from Schoolhouse Lane to Swedesford Road.

Widening U.S. 202 from two lanes to four lanes with a mountable median curb from the Wissahickon Creek crossing to south of Schoolhouse Lane.

Installing five-foot bicycle lanes in both directions in the five-lane sections.

Reconstructing the bridge over the Wissahickon Creek.

Constructing two sound walls and three retaining walls.

Installing new signals, signing and pavement markings.

Performing drainage improvements.

Integrating ITS to improve traffic flow.

Reconstructing a wetland channel adjacent to Wissahickon Creek.

Reconstructing a stone wall adjacent to the Gwynedd Friends Meetinghouse property
​
This section of the Route 202 widening project is nearing completion. The contractor still needs to overlay the entire road, install new signage and striping and wrap up other odds and ends. Completion is anticipated in late summer/early fall of 2023.
The Pennsylvania Department of Transportation (PennDOT) announced today that Swedesford Road will be closed and detoured approaching U.S. 202 (Dekalb Pike) beginning Wednesday, May 3, for roadway reconstruction under a project to widen and improve nearly three miles of U.S. 202 from south of Morris Road to Hancock Road in Whitpain and Lower Gwynedd townships, Montgomery County.
Motorists are advised of the following travel restriction:
Wednesday, May 3, through Wednesday, May 10, Swedesford Road will be closed 24/7 approaching U.S. 202 (Dekalb Pike) from Britt Road. This will be a 24/7 road closure with a posted detour for the dates listed in this notice. During the closure, Swedesford Pike Road motorists will be directed to use Sumneytown Pike and U.S. 202 (Dekalb Pike). Local access will be maintained for residents on Swedesford Road, Britt Road and Wagner Court.
Motorists are advised to allow more time for travel near the work area because backups and slowdowns will occur. All scheduled activities are weather dependent.
Other Construction Projects:
Land Development Projects Under Construction:
Goddard School- 820 N. Bethlehem Pike: Project consists of the demolition of the vacant Pike Restaurant to allow for the construction of a daycare facility and associated improvements. The rear building on the property will be converted to a medical offices.
St. Charles Borromeo Seminary- 1325 Sumneytown Pike (GMU Campus):  Project consists of the construction of a new college residence hall with a chapel, new student life center, and a new maintenance building. Parking facilities, access drive, landscaping, lighting and stormwater management improvements will also be installed as part of this project.
Precision Watches (Rolex Store)-1612 N. Bethlehem Pike: Project consists of the construction of a 2.5-story jewelry store and parking lot.